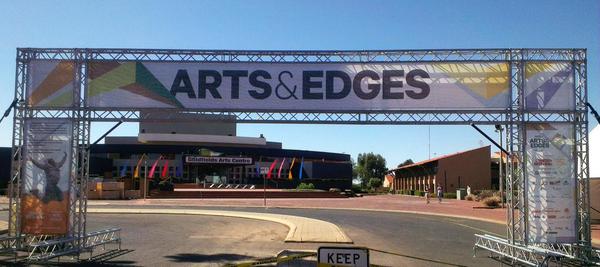 I was sad not to be able to attend the Regional Arts Summit in Kalgoorlie, Western Australia this year – despite best efforts, we couldn't square it with all the projects currently on the go at Parkes Library.
Earlier this year, I was privileged to keynote at VALA, the biennial culture, libraries, and tech conference which took place in Melbourne. I spoke about opportunity and equity in Australian libraries, trading my Hugo Boss for a miner's uniform on stage to make a point about arts access outside Australia's big cities.
Working in Parkes has opened my eyes to the challenges that rural, regional, and marginal communities in Australia still face in gaining access to arts and culture – both as audiences, and as creators in their own right.
In Parkes, we've designed events like the Central West Comics Fest to reach out beyond an arts-event circuit that focusses on state capitals, and give regional creators, fans, and audiences their due.
Some of the Twitter coverage from Kalgoorlie was relevant to this work in Australian regional libraries, especially contributions from Curtin University librarian Teresa Bennett – @kalgrl on Twitter.
You can find out more by checking out the #RAASummit hashtag on Twitter, listening to summit coverage on ABC Radio National, and visiting the Regional Arts Summit site.
You can read text based on my VALA keynote here and watch a video of the presentation by entering your email at the VALA website.
The Regional Arts Summit in 2016 will take place in Dubbo, just down the road from my friends at Parkes Library. It's going to be a great time for Central West New South Wales. I look forward to seeing an Australia where the culture scene goes further in embracing the sharp edges and strange delights of life at the margins.